Disclosure: This site contains product affiliate links. We may receive a commission if you make a purchase after clicking on one of these links.
Gain the assurance that you can manage any trailside or home workshop repair when you have equipped yourself with mountain bikes and biking's top 10 must-have tools for this year. Mountain biking is a thrilling sport, yet regular maintenance and proper bike gear are imperative to keep your ride in optimum condition.
Short Summary
Essential mountain bike tools include a multi-tool, mini pump or CO2 inflator, tire levers and more.
Home bike workshops require repair stands, floor pumps and hex/torx wrenches for maintenance tasks.
Drivetrain maintenance requires chain checkers, cassette lockring removers & chain whips. Suspension/brake tools such as shock pumps & bleed kits are also essential.
Essential Trailside Tools
The right tools are key for a successful ride. A multi-tool, tire levers and either a mini pump or CO2 inflator should be part of your trailside arsenal so that you can tackle any minor issues quickly before they become major problems. These items will enable you to get back on the bike faster and avoid an end to your day out in nature due to unforeseen circumstances.
Multi-Tool
Essential tools are essential for quick adjustments and repairs that a multi-tool provides. Mountain bikers need such convenience, which can be delivered by some of the best rated options mountain bike multi tool is out there like Pro Bike Tool 17 in 1, Crankbrothers M19 or Unior Euro17. These multi-tools come with wrenches, wrench bits, screwdrivers, chain tools and tire levers packed neatly into one package so you're always prepared when on the trail!
Mini Pump or CO2 Inflator
No matter how far you ride, having a mini pump or CO2 inflator with you can save the day if your bike gets a flat. A mini pump is manually powered and designed to be easily transported on every journey while an inflation device utlizes compressed gas to quickly inflate your tyres. There are lots of options available from different brands, so make sure you read the reviews and pick one that works best for you.
Tire Levers
A set of park tools and tire levers are necessary when replacing or mending tubes and tires. An American-made Park Tool TL-1 is often suggested for its dependability and strength, so be sure to keep one with your outdoor toolkit in case you get stuck while changing a flat.
These tools make fixing flats in the field easy—allowing quick access without any hassle!
Home Bike Workshop Basics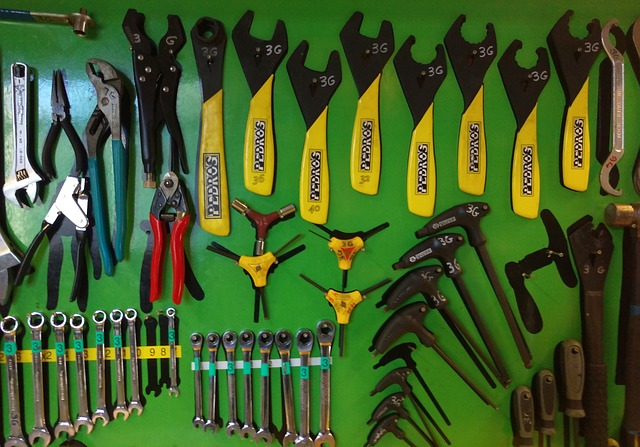 Having a home bike workshop will help you take better care of your two-wheeler and make it last longer. With the right place to work, along with essential tools like a repair stand, floor pump and wrenches (hex & torque), doing most of basic bike repair and maintenance is easily achievable.
To set up an efficient workspace for bicycles at your house requires possessing all the fundamental items needed for basic bike repairs yourself, which can be obtained relatively inexpensively when compared to taking the cycle somewhere else. Armed with these resources plus some knowledge on how they are used properly, fixing bikes in one's own home becomes easier than ever before!
Bike Repair Stand
Having a reliable and robust portable bike repair stand made for your bicycle can make any maintenance task simpler. The Foundation Bike Repair Stand, featuring a tool tray with easy release head mechanism, is one of the best options out there to ensure efficient work at home bike repairs.
Investing in such an item will make DIY jobs on your cycle much more convenient and enjoyable too!
Floor Pump
When it comes to inflation of tires and seating new tubeless ones, a quality floor pump is necessary. The Lezyne Pressure Over Drive offers an air tank along with a clear pressure gauge for accurate readings. When looking into purchasing one of these pumps, be sure to double check that it will work well with both Presta and Schrader valves, having the capacity to use all types gives you extra flexibility when needed.
Set of Hex and Torx Wrenches
Having the right tools for maintenance is key, and it's important to have a complete set of wrenches. The Lezyne Hex Kit covers all bases with its selection of hex and Torx tools. You'll be well-equipped in your own workshop no matter what kind of adjusting or tightening needs to be done on your bike. With these essential pieces at hand, you can take any repair job your own bike has head-on without worrying about not having the correct tool!
Drivetrain Maintenance Tools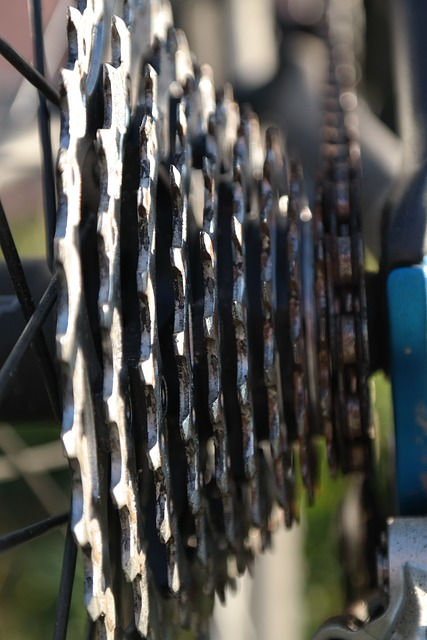 A drivetrain that is regularly maintained and checked can provide a safe, enjoyable cycling experience. To keep your gears in good working order, it's essential to have the right tools at hand – such as a chain checker, chain tool, cassette lockring remover and chain whip. These implements will help you ascertain any wear or damage on chains so they may be replaced if necessary. While making new cassettes swaps is easy work too. All of these components are indispensable when maintaining one's ride for top performance levels!
Chain Checker
A chain checker is an incredibly useful tool for assessing the wear on a bike chain to establish when it needs replacing. Regularly checking your chain can help lengthen the life of drivetrain components and keep money in your pocket. The process involved with this device couldn't be easier – simply position it along the length of the link, then as you move it across, signs that indicate its need for replacement become apparent immediately.
Chain Tool
A chain breaker, also known as mountain bike tool kit, a splitter or tool for removing/adjusting bike chains, is something any cyclist should have in their set of tools. Park Tool's CT-3 made in the USA offers an unbeatable combination of robustness and ease of use.
Having such equipment always ready will save you from unexpected troubles both when at home and on your outdoor adventures with two wheels! The words 'chain tool box', 'bike chain' (etc) all remain very important here.
Cassette Lockring Remover and Chain Whip
When it's time to put in a new cassette, you must use special tools such as the cassette lockring tool, remover and chain whip. The latter tool is used for keeping the cassette in place while using the former device to undo its connecting locks. This method of proper drivetrain maintenance means you can avoid needing a trip to your local bike shop.
These two items are critical when replacing cassettes, they will make life easier! So remember: if there's an impending replacement due, ensure that both devices come out of storage. Otherwise, face being chained (whip) to said store visit instead.
Suspension and Brake Tools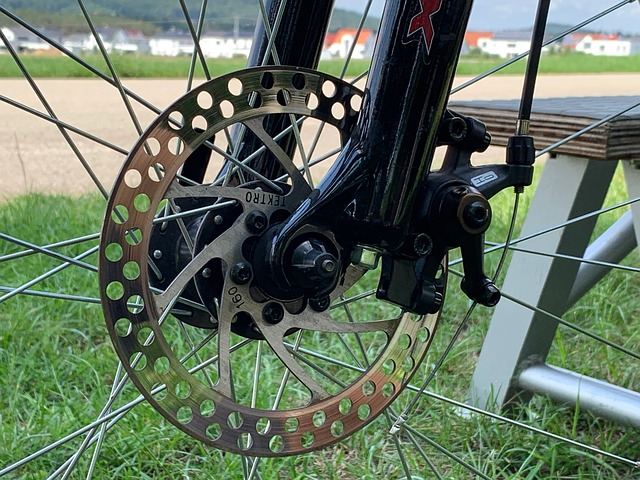 Maintaining your suspension and brakes is essential for a comfortable ride with accurate control. To ensure these components are at their peak performance, you should have both a shock pump and brake bleed kit handy. These tools guarantee the best out of your suspension and braking system thus providing improved safety when riding as well as an enhanced level of enjoyment.
Shock Pump
For a comfortable and responsive ride, it is important to have the proper PSI in your bike's suspension components like fork and rear shock – this can be accomplished with a specialized pump known as a shock pump. The Fox Digital Shock Pump or Analog Shop Pump are both great choices for keeping optimal performance from your suspension setup.
Bleed Kit
Having a bleed kit handy is essential if you want to maintain your hydraulic brakes properly. Bleeding the brakes requires extracting air bubbles from the brake system, ensuring that it functions correctly and with enough power every time you press down on them.
Although this process may seem complicated initially, all it takes is practice along with an appropriate bleeder set for anyone to become confident of tackling these tasks at home conveniently!
Wheel and Tire Tools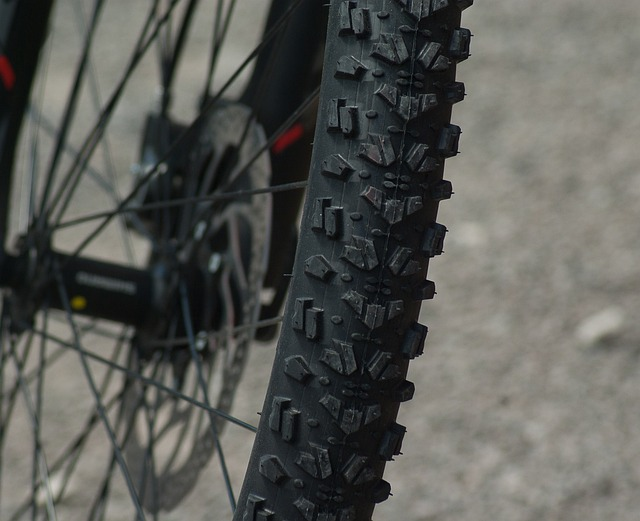 Essential tools such as a spoke wrench and tubeless tire repair kit are vital for keeping your bike's wheels and tires functioning at their best. These items will make sure that you can ride safely without having to worry about any issues with them arising. With these essential pieces of equipment, it is simple to keep your wheels in top condition. Ready for whenever you feel the need hit up some trails!
Spoke Wrench
Having the correct tension on your bike's wheel spokes is essential for keeping them aligned and durable. To assist with this, Park Tool SW-7 provides a simple solution suitable for many of the common spoke sizes. Regular maintenance by checking both tensions can help avoid any potential damages that may impact smooth riding experience.
Tubeless Tire Repair Kit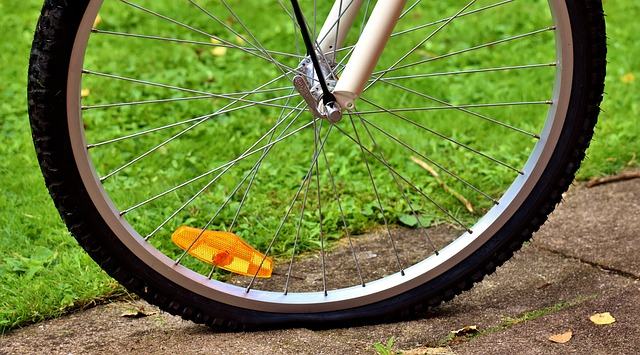 For cyclists who have tubeless tires, having a repair kit on hand is essential. The kits are included in the kits. Contain plugs and sealants to patch up punctures along with an insertion tool for applying the fix. Though this isn't meant as a permanent solution, it can be useful in getting you back out onto the road after minor tire damage.
Some of the highest rated kits are those from Slime Tubeless Tire Repair Kit, Park Tool Tubeless Tire Repair Kit and Vittoria's version too. All three offer reliable temporary solutions to your most pressing flat tire issues while biking outdoors!
Additional Tools for Advanced Maintenance
For bike enthusiasts who want to take their maintenance game up a notch, having the right tools is vital. A torque wrench and bottom bracket tool should be part of any serious cyclist mountain biker's repair arsenal. With these specialized items, you'll ensure that your bicycle always stays in perfect condition when it comes to complex repairs and adjustments.
These two essential pieces will enable all sorts of meticulous work for avid bike mechanics, from precise fixes with exact specifications to overhauling an entire system on a mountain or racing cycle! Having them handy at home ensures maximum comfort while riding as well as keeps troublesome breakdowns away!
Torque Wrench
Having a quality torque wrench is essential to keeping your bike in good condition and secure. This precision instrument will allow you to tighten nuts and bolts exactly as needed, avoiding either under or over tightening them. With the help of this tool, you can be sure that all components are correctly fastened on your bicycle without risking damage due to excessive force applied during assembly/disassembly. Investing in a reliable torque wrench should be an integral part of maintaining the safety and wellbeing of your two-wheeled transport system!
Bottom Bracket Tool
The bottom bracket tool is a necessary piece of equipment for the removal and installation of your bike's bottom brackets. Its usage guarantees that the installation goes through without any damage occurring to it. Using the correct type designed specifically for each individual bracket is important in achieving a successful fitment process quickly and smoothly. The importance of this specialized tool cannot be overlooked when taking apart or putting back together these critical components found on all bicycles.
Cleaning and Lubrication Supplies
Maintaining your bike in a good state requires regular cleaning and lubrication. To do this, you need to invest in supplies like degreaser and chain cleaner, as well as lube for the chain. Brushes also come handy when it comes to wiping away grime and dirt.
Proper care of your bicycle will keep it running efficiently while at the same time ensuring that its appearance remains spotless. Keeping up with these simple maintenance tasks is key for getting optimum performance out of any two-wheeled machine!
Degreaser and Chain Cleaner
Using a top-notch degreaser and chain cleaner is essential for maintaining your bicycle's drivetrain. Cleaning regularly will keep the components running smoothly, avoiding early wear down. Getting these cleaning products that do their job effectively can make this chore much easier to complete quickly.
Chain Lube
It is essential to lubricate the chain often in order to stop it from rusting and maintain smooth gear changes. There are a few options when selecting lube, for example: wet, dry, ceramic or wax-based formulas that should be chosen based on your riding conditions. After each ride or cleaning session, make sure you apply the correct type of lube onto your chain, this will ensure its durability over time.
Cleaning Brushes
Caring for your bike properly involves having the right brushes in your maintenance toolkit. Quality tools help make it easy and even enjoyable to give your cycle a deep clean. You'll need different ones for cleaning distinct parts of mountain bike multi such as the frame, chain, and drivetrain components.
Bike maintenance should include investing in good brushes that will access hard-to-access areas of any bicycle so you can get optimal results while taking care of upkeep tasks on regular intervals.
Organizing and Storing Bike Tools
Having an efficient and enjoyable bike workshop starts with organizing and storing your tools. Depending on the size of your workspace, you can choose from a tool wall or pegboard to store everything neatly, opt for a convenient toolbox filled with the all the tools and supplies needed for repair work. Or carry them around in portable kits. Whatever option works best for you will ensure easy access whenever they're needed and help keep things neat while making repairs easier! Owning specialized tools like bicycle-specific items is essential if more complex maintenance is required – such as spoke wrenches or cassette removers – these are great additions to any home cyclist's set up too.
Tool Wall or Pegboard
A tool wall or pegboard is a great storage option that allows you to easily access your tools while keeping them neatly organized. It can be tailored specifically for any needs with the use of hooks, shelves and other accessories designed to keep things in order.
The installation of such an arrangement may necessitate a significant amount of space on the wall, but it will ensure items stay visible and at hand whenever they are needed.
Toolbox or Portable Tool Kit
A portable tool kit or toolbox is perfect for storing and keeping bike tools well organized and easily accessible. Features such as drawers, compartments, and mobility are important to consider when selecting the right storage solution that can accommodate all your tools while also protecting them from any damage.
Choose one of these solutions with regard to having enough space for all your equipment in order to keep everything you need secure at hand!
Summary
Having the correct equipment is a must for all mountain biking enthusiasts, from basic to more complex maintenance tasks. In order to ensure your bike remains in prime condition and you have an exhilarating ride experience this 2023 year, here are 10 essential tools that every rider should equip themselves with: multi-tools, tire levers, pumps as well as other basics for home workshops or advanced repairs. As mentioned before, cleanliness and lubrication using suitable materials are key components of mountain bike maintenance and upkeep. Organizing these supplies properly will also make any task much easier too! With the right knowledge and collection of gear on hand (be it within trailside pouches or at home workshop stations), keep those wheels spinning joyously throughout your many explorations into nature's wild world ahead.
Frequently Asked Questions
What tools should I keep on my bike?
Having a multi-tool, spare tube, patch kit, hand pump and tire levers on your bike is essential for safe and effective maintenance. By keeping these tools with you at all times, it allows for minor repairs to be undertaken swiftly, meaning your ride remains up to scratch. Bringing along some money as well as a mobile phone ensures any potential issues can easily be resolved without becoming stranded or running into bigger problems down the line.
What tools should I have for my mountain bike?
Toolkit: A basic toolskit must have a tire lever, specialized multitools for bike use, a few chainlinks, a quicklink/masterlink, a zip-ties, and. Some people on longer trips may want extra accessories such as extra Derailleur Hanger cables or shifters.